Jobless Reincarnation: I Will Seriously Try If I Go To Another World (無職転生, Mushoku Tensei: Isekai Ittara Honki Dasu) is an upcoming anime series based on the light novel and manga of the same name. The anime originally was scheduled to premiere in 2020[1] but was postponed to January 2021.[2][3]
Synopsis
"I'm going to be serious in this different world!" A 34-year-old man, virgin NEET. The moment he was driven out of his house on his parents' funeral day, he was hit by a truck and lost his life. When he woke up, he was reborn as a baby in a different world of swords and magic! A man who has lived like garbage, vows to live as the boy, Rudeus, in a different world Waiting for Rudeus is a loli magician child, a beautiful girl with elf ears, a ferocious tsundere lady. Encounter with various other people. And a tough fight as an adventurer. A new life begins![4]
Episodes
TBA
Staff
Director: Manabu Okamoto.
Character Design: Kazutaka Sugiyama.
Sub-character Design: Yochiko Saitou.
Chief Animation Director: Kazutaka Sugiyama / Yochiko Saitou.
Art Director: Masakazu Miyake.
Color Design: Makiko Doi.
Cinematographer: Shinji Tonsho.
Editing: Akinori Mishima.
Sound Director: Jin Aketagawa.
Music: Yoshiaki Fujisawa.
Producer: EGG FIRM.
Production: Studio Bind.
Cast
PV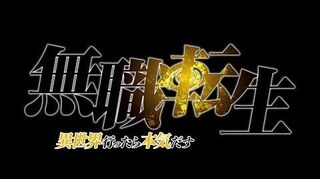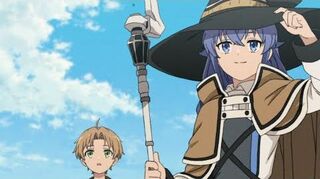 Gallery
Source
Trivia
This is the first anime produced and led by Studio Bind.
You can hear Toshiyuki Morikawa (Paul VA) at the end of the first PV released on October 18 of 2019, but his role was only confirmed after the second PV released on July 8 of 2020.
References
Community content is available under
CC-BY-SA
unless otherwise noted.