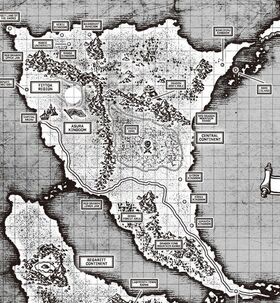 Central Continent (中央大陸 Chūō Tairiku) is the largest continent in the world. The Red Dragon Mountain Range divides the Continent into three parts - the snow-laden North, the prosperous West, and the hostile regions of the South. It lies west of the Ringus Sea. As human-race makes up a large majority of the population, the main language is the Human-God Tongue.
Northern Continent
Kingdom of Ranoa: The Kingdom of Ranoa is the largest autonomous territory of the North and is one of the three Great Magic Nations. The capital, Sharia, also known as the City of Magic is where the famous Ranoa University of Magic is located in this city where many outstanding magicians have been produced.[1]
Duchy of Neris: One of the three Great Magic Nations. It is known for manufacturing Magic Tools.[2]
Western Continent
Asura Kingdom: The Asura Kingdom is located in West of the Central Continent and is one of the most abundant and richest regions in the world. The bountiful resources found in this region and relatively very few monsters showing up makes the Asura Kingdom thrive with people. Asura, however, is a hard place to make a living for adventurers; knights are dispatched regularly in order to exterminate monsters across towns and villages, hence very few extermination quests are put up. The capital Ars, named after a war hero of the human-race, is the largest city in the world.[4]
Southern Continent
Shirone Kingdom: It was a small but old country with a two-hundred-year history. Latakia is the capital of Shirone Kingdom.
Dragon King Realm: Is the third biggest country in the world and the largest in the southern part of the Central Continent with four vassal states under it. Wyvern is the capital of Dragon King Realm.
Sanakia Kingdom: one of the vassal states of Dragon King Realm.
Kikka Kingdom: one of the vassal states of Dragon King Realm.
Currency
Asuran gold coins (100,000 yen = 1,000 USD)
Asuran silver coins (10,000 yen = 100 USD)
Asuran large coppers (1,000 yen = 10 USD)
Asuran coppers (100 yen = 1 USD)[6]
Trivia
The Human Tongue have a little variation depending on the region (North, West, and South)[7]
The Central Continent and the Demon Continent were once part of a supercontinent, but the two lands populated by opposing races split off during the Second Great Human-Demon War
References
Community content is available under
CC-BY-SA
unless otherwise noted.