This is the first volume of the Mushoku Tensei light novel.
Synopsis
DEATH IS ONLY THE BEGINNING!
Kicked out by his family and wandering the streets, an unemployed 34-year-old shut-in thinks he's hit rock-bottom—just as he's hit and killed by a speeding truck! Awakening to find himself reborn as an infant in a world of swords and sorcery, but with the memories of his first life intact, Rudeus Greyrat is determined not to repeat his past mistakes. He's going to make the most of this reincarnation as he sets off on the adventure of a second lifetime!.[2]
Chapters
Prologue
Chapter 1: Is This Another World?
Chapter 2: The Creeped-Out Maid
Chapter 3: A Textbook of Magic
Chapter 4: Master
Chapter 5: Swords and Sorcery
Chapter 6: Reasons for Respect
Chapter 7: Friends
Chapter 8: Obliviousness
Chapter 9: Emergency Family Meeting
Chapter 10: Stunted Growth
Chapter 11: Parted
Extra Chapter: The Mother of the Greyrat Family
Illustrations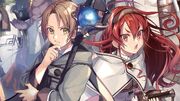 Adaptation Notes
Differences from the original web novels
Extra Chapter: The Mother of the Greyrat Family: is a original chapter that tells how Zenith become a adventurer, meets Paul group, become pregnant, and her feelings about the family.
References
↑

Physical Book version, April 4 of 2019 Early digital
Community content is available under
CC-BY-SA
unless otherwise noted.