This is the third volume of the Mushoku Tensei light novel.
Synopsis
THE ROAD TO ADVENTURE
Teleported to an unfamiliar land by a mysterious magical disaster, Rudeus and Eris are going to have to rely on their own wits to survive—and on each other! Which is easier said than done, especially when they find themselves face to face with one of the Superd, the murderous demon race Roxy warned Rudy about…[2]
Chapters
Chapter 1: The Con Artist Who Claimed to Be a God
Chapter 2: The Superd.
Chapter 3: A Master's Secrets.
Chapter 4: The Foundations of Trust.
Chapter 5: Three Days to the Nearest Town.
Chapter 6: Infiltration and Impersonation.
Chapter 7: The Adventurers' Guild.
Chapter 8: The Adventurers' Inn.
Chapter 9: The First Job: The Value of a Life.
Chapter 10: The First Job Completed.
Chapter 11: A Smooth Start.
Chapter 12: Children and Warriors.
Chapter 13: Failure, Chaos, and Resolve.
Chapter 14: The Beginning of Our Journey.
Extra Chapter: The Princess of Asura and the Angel.
Illustrations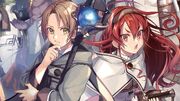 Adaptation Notes
Differences from the original web novels
Extra Chapter: The Princess of Asura and the Angel: New original chapter for the light novel.
References
↑

Physical Book version, August 1 of 2019 Early digital
Community content is available under
CC-BY-SA
unless otherwise noted.