This is the seventh volume of the Mushoku Tensei light novel.
Synopsis
THE MOTHER OF ALL ADVENTURES
Alone and forlorn, Rudeus arrives at the city of Rosenburg to search for his mother, Zenith. Despite his attempts to focus on the task at hand, Eris' absence weighs heavy on his heart, and so Rudeus gambles on a dangerous new venture to distract himself from his newfound loneliness—accepting an A-rank job all by himself.[2]
Chapters
Prologue
Chapter 1: The Depressed Magician
Chapter 2: Raster Grizzly
Chapter 3: Rudeus the Quagmire
Chapter 4: The Forest at Midnight
Chapter 5: Quick Intimacy
Chapter 6: The Incompetent Magician
Epilogue
Extra Chapter - Ruler of Ranoa Magic Academy
Illustrations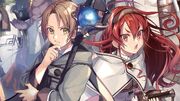 Adaptation Notes
Differences from the original web novels
This volume don't have any chapter of the web novel, however, some events and characters appear in the web novel version.
References
↑

Physical Book version, July 9 of 2020 Early digital
Community content is available under
CC-BY-SA
unless otherwise noted.