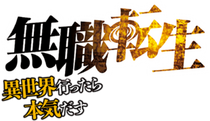 Jobless Reincarnation: I Will Seriously Try If I Go To Another World (無職転生 〜異世界行ったら本気だす〜, Mushoku Tensei: Isekai Ittara Honki Dasu), abbreviated as Mushoku Tensei (無職転生), is a light novel series written by Rifujin na Magonote and illustrated by a Pixiv user called SiroTaka. It originally started as a web novel hosted on Shōsetsuka ni Narō between 2012-2015. A year later, it was announced the series would receive a light novel release under Media Factory's MF Books imprint;. A manga adaptation by Yuka Fujikawa began serialization in the June 2014 issue of Monthly Comic Flapper. Seven Seas Entertainment licensed the tankōbon volumes of the manga for localization in North America. The company also has licensed the original light novels. An anime adaptation has been announced.[1]
Plot
A 34-year-old Japanese NEET is kicked out of his house following the death of his parents. He intercepts a speeding truck heading towards a group of teenagers and pulls one of them out of the way before dying. Awakening in a baby's body, he realizes he has been reincarnated in a world of sword and sorcery. While initially indulging in his perversion, he resolves to become successful in his new life, discarding his past identity for his new life as Rudeus Greyrat. Due to his genetic factor and early training, Rudeus becomes highly skilled at magic. During his childhood, he becomes a student of Roxy Migurdia, friend to Sylphiette, and teacher to Eris Boreas Greyrat. Shortly after, a teleportation catastrophe scatters many people around the world, and Rudeus resolves to escort Eris home. During his journey, Rudeus receives advice from the mysterious Human-God and befriends Ruijerd Superdia. Successfully escorting Eris home, a misunderstanding with her leaves Rudeus heartbroken.
Media
Web Novel
Rifujin na Magonote published his work on the online web novel website, Shōsetsuka ni Narō (Shortened to Syosetu); the first chapter was uploaded on November 22, 2012.
Light Novel
In November 2013, the author announced his work was to released as a light novel under Media Factory's MF Books imprint; regardless, the author stated his intentions to continue publishing his chapters online.[2] The illustrator for the light novel is a Pixiv user called SiroTaka. Seven Seas Entertainment has licensed the light novels for publication in North America.
Manga
In the May 2014 issue of Monthly Comic Flapper, it was announced that the manga adaptation of Mushoku Tensei by Yuka Fujikawa would premiere in the June issue; though Yuka is the author of the manga series, character designs are credited to SiroTaka. Media Works collected the individual chapters into tankōbon volumes; the first volume was released in October 2014. In January 2015, Seven Seas Entertainment announced its licensing of the manga series for localization in North America under the title Mushoku Tensei: Jobless Reincarnation.[3]
Anime
On March 15, 2019, the official website of MF Books announced that an anime adaptation project of Mushoku Tensei would be produced.[4]
References
External Links
Community content is available under
CC-BY-SA
unless otherwise noted.