Tallhand is a short rugged dwarf magician used to be in Paul Greyrat's party before Rudeus was born.
Appearance
Like all dwarfs, he is short. He also has a long beard.
Personality
He likes to drink alcohol.
Background
He is used to be in Paul party.
Story
Redundancy
He works in Millis forging weapons and Armors for Rudo Mercenary company.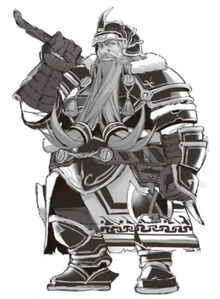 Powers and Abilities
Immune to the charms of a Succubus
Intermediate Rank Earth Magician
Trivia
He is gay. It is confirmed in Redundant chapters.